Concerned about your company's competitive edge? Lack of learning may have a lot to do with it.
August 01, 2013, by Corina Sibley | Performance Management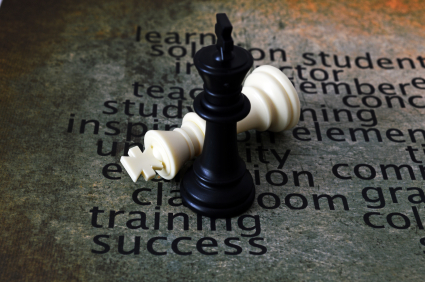 Let's face it; now that we're established in the work world, either as managers, business owners, employees or consultants, not many of us want to rush back into study mode. The days of sitting in a classroom (virtual or otherwise), writing papers, and cramming for exams until our brains hurt are far behind us. But should they be? If we want our companies to continue to grow and thrive, we need to continue to be innovative. Innovation can only happen in a continuous learning environment. Continuous learning doesn't have to be classroom driven, but can encompass all aspects of learning such as on the job, new projects, mentoring, professional skills development, as well as formal education.
According to the April 2013 American Express Small Business Monitor survey, a quarterly survey co-produced by PROFIT and Amex, 61% of respondents indicated that the average member of today's workforce doesn't have enough of the skills their firm needs to succeed. Organizational investment in training and development has dropped in Canada. A Financial Post article reported the following:
"According to the Conference Board of Canada's 2011 Learning and Development Outlook report, training for SMB employees dropped from $1,116 per employee in 1993 to $688 per employee in 2010. Perhaps not surprisingly, in its just released How Canada Performs: A Report Card on Canada, the Conference Board ranks the country 13 out of 16 comparator nations when it comes to innovation – a key driver in productivity."
Here are some of the ways that you can incorporate continuous learning into your day-to-day operations and ensure the continuing innovation, productivity and competitive edge at your company:
On the job
Look for creative ways of obtaining new skills within an employee's own role; it could be something as simple as providing them with a new project that they have not yet experienced, or aligning them with a different set of customers or clients that may expose them to a different industry or perspective.
Cross-functional project teams
Consider establishing projects teams that have representatives from multiple functions. Not only will you get a more broadened set of opinions and more creativity, the participants will learn something new from their peers outside of their own function.
Mentoring
Mentoring has benefits for both the mentee and mentor. Mentees learn from more seasoned employees on a variety of topics such as career progression, conflict resolution in the workplace, problem solving skills, how to navigate the organization, networking tips, etc. Mentors also learn from their mentees. Mentees provide a different perspective as they are at a different point in their careers, may be from a different generation or a different function.
Internal training
Leverage the skill sets of your managers and employees and have them develop and deliver lunch and learn sessions on topics that are of interest. A finance expert could do a session on how to read income statements and balance sheets and explain how the company makes its money; a marketing expert could teach everyone about the 5 Ps of marketing. The win-win? You're providing employees with experience in developing and delivering content while also deepening your employees' knowledge base on the operations of your company.
Seminars and professional training
For your employees who have professional designations, formal seminars through their professional associations will help them retain their certification. This will ensure that these employees continue to provide the best possible professional services to your company as they keep on top of all the changes in their chosen profession.
Formal education
And here we are back in study mode again! Yes, for some of your employees, continual learning will mean going back to school to pursue a sought after diploma or degree. How will you handle requests of this nature? Will you be supportive of it in terms of flexibility of schedules around class times, an education leave of absence, or sponsorship in the form of tuition support? Chances are if you do not show any support whatsoever, your employees will find a company that will. Ensure you are also treating all employees fairly by having solid Leave of Absence, Flexible Work Arrangement and Tuition Support Policies.
How will your company measure up in terms of innovation and productivity? Maybe it's time to relook at your learning strategy.
Tell us what you think. Are you planning on spending more on learning in your company in 2014?