Meet HR à la carte's Founding Partners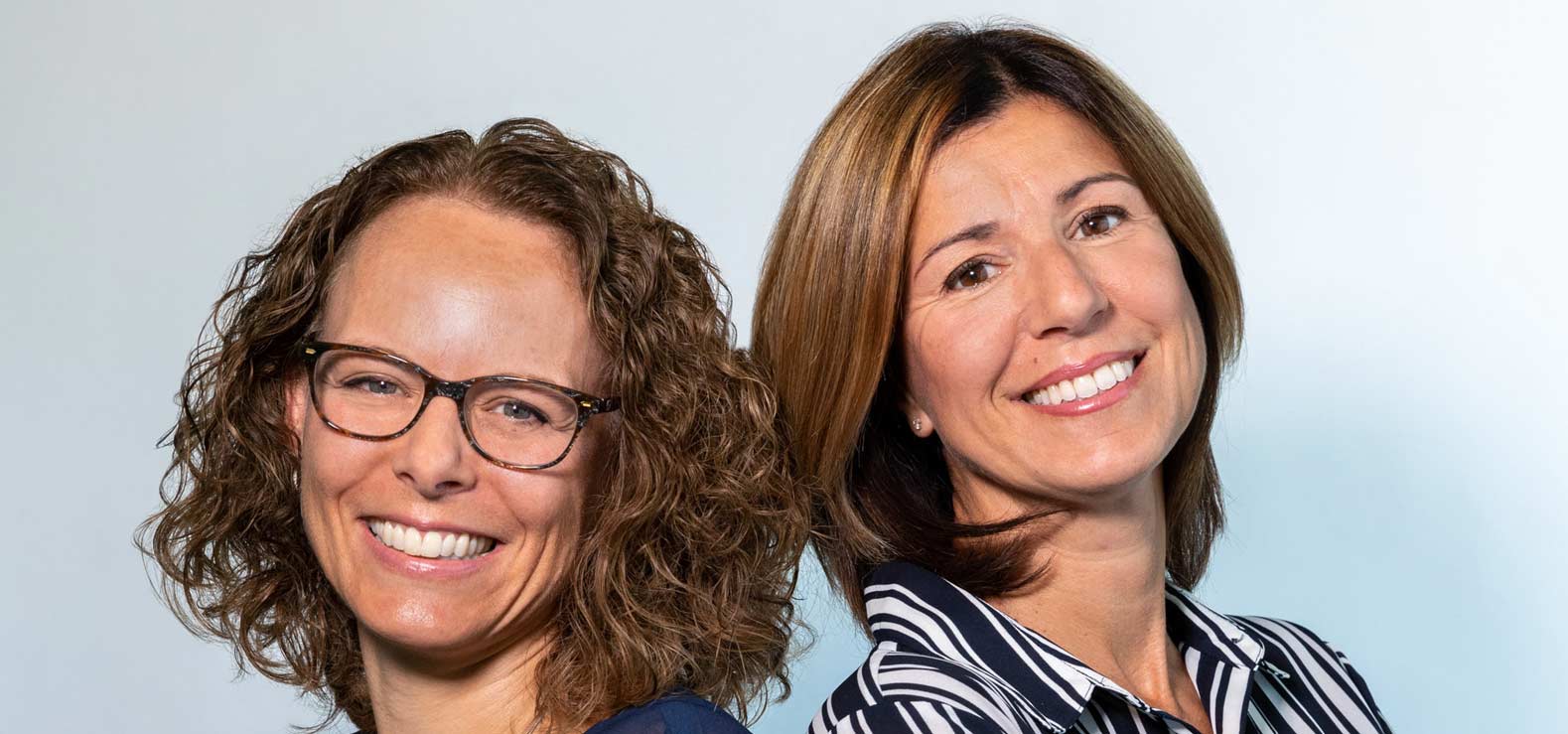 Corina Sibley, MBA, CHRL
Corporate Bio: Corina is the co-founder of HR a la carte. A seasoned Human Resources Professional with 25 years of diverse HR and managerial/leadership experience in varied industries (financial, entertainment, manufacturing, IT, professional services, utilities, medical devices, aerospace, health care services, non-profits, energy, and pharmaceutical). Corina possesses a unique blend of HR and Operational leadership experience. She is recognized as an expert in analyzing HR issues and processes utilizing Six Sigma methodology, and creating and implementing workable solutions.
Corina held several leadership roles in HR at Capgemini and GE before venturing into consulting, including leading the HR function in Canada for GE Money and NBC Universal. A graduate of GE's prestigious Human Resources Leadership Program, Corina also holds an MBA degree from the Schulich School of Business, specializing in Organizational Behaviour and Industrial Relations and a Bachelor of Commerce (Hons) degree from McMaster University. Corina is both a Certified Human Resources Leader, and a certified Six Sigma practitioner, and is working towards her Certificate in Workplace Mental Health Leadership through Queen's University.
Prior to her career in HR, Corina spent six and a half years in the Canadian Army as a Logistics Officer, leaving the military with the rank of Lieutenant. She is functional in both French and Dutch.
In her consulting practice, Corina is passionate about helping her clients navigate the often complex compliance landscape and providing practical advice and solutions to their most complex employee relations issues. She loves building relationships with clients and seeing their businesses grow and flourish, happy to play a part in it. She loves a good laugh and enjoys having fun at work!
Other Stuff! Corina loves travelling, working out, camping, reading, writing, and spending time with family. Her three kids keep her busy when she is not focused on client work and managing the HR a la carte business! She volunteers extensively in her community at her local Chamber of Commerce, schools and church. Corina hopes to one day realize her dreams of writing a book, learning to play the guitar, visiting Rome and walking the Camino de Santiago!
×
Stephanie Messier, CHRL
Stephanie Messier is the co-founder of HR à la carte.
Corporate Bio: Through her 25+ years of HR experience and partnership with clients, she has had exposure to HR best practices and dealt with tough issues that challenged her thinking on employment experience. Being an entrepreneur herself, she clearly understands the challenges businesses are facing everyday. Therefore, she is able to use her experience to facilitate simple solutions for small to mid-size organizations.
Stephanie holds a BSc with University of Montreal in Human Resources and Labour Relations and a Diploma in Executive Coaching from Royal Road University. She trained with one of the best coaches and attended the most powerful leadership training programs at the renowned Jack Welsh GE Leadership center, Rothman School and Hautes Etudes Commerciales. She is also a Certified Human Resources Professional. Stephanie is bilingual (French and English).
Other Stuff! Stephanie is passionate about hockey. She is involved in coaching teams and plays herself; her favourite hobby is to attend her sons' hockey games as well as to watch her daughter performing in competitive synchronized swimming.
×
Meet the rest of the team
Brooke Wilkinson, CHRL, AIOP
Corporate Bio: Brooke is an HR Consultant with HR à la carte. She is an accomplished Human Resources Professional with 15+ years of progressive HR experience and has worked with a diverse range of industries including telecommunications, professional services and manufacturing.
Prior to HR à la carte, Brooke lead the HR function in Canada for Primus. Her comprehensive background as a leader in Human Resources has been built around working with people, providing strategic HR insight and support, developing strategies and solutions and implementing HR initiatives to help people & businesses thrive.
Brooke is a trusted business partner and has extensive experience in project management, change management and the implementation and delivery of HR programs & initiatives. Her strengths in communication and interpersonal skills enable her to build strong and trusted relationships with internal and external partners.
Brooke holds a Bachelor of Arts degree from the University of Waterloo in Speech Communications and a post graduate certificate in Human Resources Management from Humber College. She is a Certified Human Resources Leader and a member of the Human Resources Professionals Association. In 2017, Brooke received her Advanced International Organizing Professional certification, pursuing her love of organizing, working with people and transforming spaces.
Other Stuff! Brooke enjoys all things organized, cooking, entertaining, travel and spending time with family. She is an active volunteer in her local community & schools.
×
Jennifer Ferron, CCP
Corporate Bio: Jennifer is an experienced human resources and compensation professional who held various roles in human resources, compensation and total rewards management before moving into consulting. As someone who thrives on variety, continuous learning and the challenge of finding a suitable solution to a client's problem, her corporate years sharpened her expertise in an eclectic group of business sectors, from the public service, to facility management, to luxury retail, to energy services.
Today, Jennifer provides compensation and total rewards solutions to clients across an equally diverse spectrum of organizations, from non-profits, to retail, to manufacturing, to professional services and beyond. She enjoys helping businesses find the right balance between market realities and internal equity to ensure competitive, fair and engaging employee compensation and rewards offerings.
Woven throughout Jennifer's approach are a strong business acumen, and a human resources management perspective honed through a career spanning 16+ years. Clients appreciate her unique ability to assess and understand the connections between different business units and stakeholders across a wide range of work settings, and the impact that business decisions can have across an organization. She is also known for her strong analytical capabilities and keen attention to detail, and is fluently bilingual in both English and French.
Jennifer holds an Honours Bachelor of Commerce degree in Human Resource (HR) Management from Laurentian University and is a Certified Compensation Professional (CCP).
Other Stuff! Jennifer loves exploring new places, both near and far, and getting her hands dirty in the garden. She is equally passionate about giving back to her community, currently serving as the Coordinator of the Guelph-Wellington Chapter of The Shoebox Project for Shelters, as well as serving on the Board of Directors of Family Counselling & Support Services for Guelph-Wellington. She has also acted as a mentor to junior HR professionals in her community for several years.
×
Tam Campbell Trant
Corporate Bio: Tam is a recruitment professional that supports both employers and job seekers with their employment needs. She has an Honours Degree from Lakehead University and an HR Management Post-Graduate Diploma from Sheridan College.
Tam began her career as an HR Coordinator with Husky Injection Molding Systems, a leading supplier of injection molding equipment and services to the plastics industry. During her tenure with Husky, she supported the Robotics and Components business units, and worked on the recruitment for various technical and non-technical roles.

Now with HR à la carte, Tam recruits on behalf of our diverse clients, for a variety of positions. She not only sources qualified candidates based on skills, knowledge and experience, but also based on organization fit within each client's unique work culture.
Tam is definitely passionate about recruiting: she enjoys the challenge of searching for qualified candidates, but especially loves the thrill in finding them!
Other stuff! When not recruiting, Tam loves being outside in the woods, going on adventures, reading fiction, and laughing along the way with family and friends.
×
Leigh Lauwaert
Corporate Bio: Leigh is a HR Consultant with HR à la carte. She has 15+ years of progressive experience in Human Resources within the Information Technology and Financial Services industries.
Before joining HR à la carte, Leigh spent 13 years at TD Bank Financial Group as a Human Resources Business Partner, supporting a wide range of business groups such as: TD Insurance, Business Banking, Financial Crimes and Fraud Management, Strategic Sourcing/Procurement, Enterprise Real Estate, and Treasury. Prior to joining TD, Leigh started up the Human Resources function for a small software consulting firm, with offices in both the US and Canada.
Leigh is known as a strategic Human Resources professional and business partner with the ability to develop strong working relationships and pro-actively identify and act upon a business's unique Human Resources needs. She has extensive experience in organizational design, performance management, talent acquisition, employee engagement and employee relations. In her last 2 years at TD Bank, Leigh led the Human Resources work stream for a large-scale, organization wide innovation program.
Leigh has a Bachelors' degree in Psychology and Health from Queen's University, and a post-graduate certificate in Human Resources Management from Humber College. Leigh is a member of the Human Resources Professional Association and holds the Certified Human Resources Leader designation. She also has a certificate in Advanced Dispute Resolution from the University of Windsor's Department of Law.
Other Stuff: Leigh is a proud hockey and lacrosse mom. When she is not at the rink (which is not very often), she enjoys cooking, gardening and reading. She is also an avid runner and has completed several half marathons.
×
Candice Kennedy
Candi is a Recruitment Consultant with HR à la carte and an Honours Graduate of Psychology from the University of Waterloo.
Candi began her career as an Employment Counsellor, and worked for March of Dimes and Peel Career Assessment Centre. Candi advised and supported her clientele with their career decision-making process and employment opportunities through assessments and coaching for job placements. For employers, she recommended qualified candidates to help them with all of their hiring needs.
Candi then moved into consulting work with resume writing and profile building. At HR à la carte, she supports our clients with their various recruiting needs to ensure they hire quality candidates.
Other Stuff: Candi LOVES Football (both watching and playing). When not busy tossing the ball, she can be found volunteering in the local area or spending time at the cottage, with family and friends.
×
Saumya Goswami
Saumya is a Recruitment Consultant with HR à la carte and has a Masters degree in Commerce from India.
Saumya has been recruiting for 5+ years and she supports our clients with their various recruiting needs to ensure they hire quality candidates. She plans to pursue extended courses/certifications in HR soon.
Prior to joining HR à la carte, Saumya was a teacher for elementary grades at a reputable school in India. She enjoyed her time teaching kids and seeing them grow. Saumya was also part of a Chiropractic Office in Toronto and supported them in administration.
Other Stuff: Saumya has a passion for cooking vegetarian delicacies. She also has creative interests such as painting and sketching. When not busy, she loves socializing and spending time with her family, her husband and two beautiful daughters.
×
Sophie Bergeron
Sophie is a Bilingual HR Consultant with HR à la carte. She has over 25 years of HR experience in progressive positions. Prior to joining HR à la carte, Sophie worked in several companies such as Pratt & Whitney, ABB, Loblaws and DATA Communications. She has HR experience in both the province of Ontario and Quebec, and most recently in the US.
Sophie's core value lies in her ability to take a serious, logical and probing approach to HR consulting and she is recognized as a knowledgeable and trustworthy partner.
She has a Bachelor's Degree in Industrial Relations from Université Laval and a Certificate in HR Law from York University. She is a member of HRPA and holds the Certified Human Resources Leader designation.
Other Stuff: When not recruiting, Sophie splits her spare time between her son's hockey games and her daughter's horse back riding competitions. She also enjoys doing yoga and listening to music.
×