From Blue Monday to February Blues – 5 Tips to Stave off the Winter Blues
January 23, 2019, by Corina Sibley | Work Environment and Policies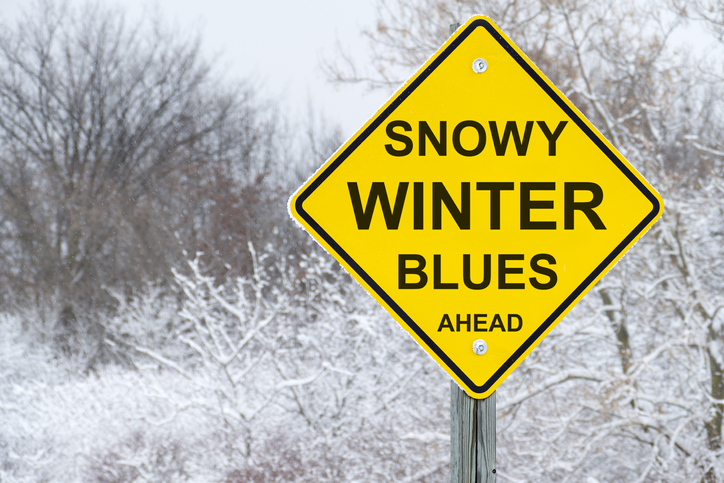 With Christmas and New Year's well behind us and being in the icy grips of winter, some of us get a little down at this time of year. Typically, this used to be called the "February Blues". Another term was coined back in 2005, "Blue Monday". This was meant to be the most depressing day of the year based on a mathematical calculation, typically landing on the third Monday in January (Monday January 19th this year). It turned out to be a PR campaign from a British travel company to help sell southern destination trips. However, the idea has stuck around on social media.
Regardless of the terminology, there is something to be said for surviving the dark days of winter, but why just survive them, why not thrive. Especially since we live in a northern climate. Here's some tips for beating those winter blues.
1. Plan more get togethers
The tendency in the winter months is to cocoon at home. But that often leads to feelings of isolation. Book time in your calendar to socialize with friends and family; whether it be for a potluck dinner, euchre or board games night, or going out for dinner or a walk. Engage with others and stay connected. That includes with your coworkers; take some time to go out for lunch and coffee on occasion. The key is to book it in your calendar.If you don't, it will never happen.
2. Attend a winter fest
There are many festivals at this time of year.My particular favourite is Ottawa's Winterlude. You can do a Google search and see what's available near you. Barrie even has a festival called the February Blues Festival. Norway is a country that embraces winter and has many winter festivals such as the Northern Lights Festival, Ice Music Festival, Birken Ski Festival and the Polar Jazz Festival.
3. Spend time outdoors
One of the best ways to beat the blues is to get outside; whether you can fit in a daily walk around the block (during the day is best so you get the benefit of light), or tobogganing with your kids on the local hill, heading outdoors is one of the proven ways of improving anxiety and depression. This is often termed nature therapy. According to a study in Japan, older adults who reported going outdoors less frequently had higher depression scores. And you can tell your kids that the graphics are amazing outdoors if you're having a hard time pulling them away from their screens and online games!
4. Book a trip in advance
Of course, this depends on your budget as to what kind of trip, but just booking a trip, whether it be for a few days or a week or more and having it in your calendar, gives you something to look forward to. Whether it's a weekend getaway to do some snowshoeing in cottage country, or a week away to an all-inclusive at a southern destination, you'll have both the anticipation of the trip and the trip itself to help with beating the winter blahs.
5. See a doctor
Sometimes our winter blues are more than just blues and may actually be a depression. Seasonal affective disorder (SAD) does tend to be more prevalent in the winter months for people in the northern hemisphere; researchers think it has to do with the lack of light during the winter months. Some of the tips above will certainly help manage symptoms but you're much better off to have a doctor assess you and put together a program tailor made for you.It may involve light therapy,medication, etc. SAD is not something you can "tough it out" or get through with your "chin up". Mood Disorders Canada has an online self-assessment tool called Check Up From the Neck Up to help you identify if you are struggling with a particular mood disorder such as depression. You can print off your results and take them to your doctor.
The beauty about winter is that it does always end. By using some of the tips above, hopefully it will be a more pleasant season than just one that has to be gotten through.
What are some of the ways you try to beat the winter blues at work?
Other Articles of Interest:
Steps to a Psychologically Healthy Workplace
Coping With Employee Mental Health Issues