How to Maintain Employee Productivity During the Summer
June 24, 2013, by Corina Sibley | Work Environment and Policies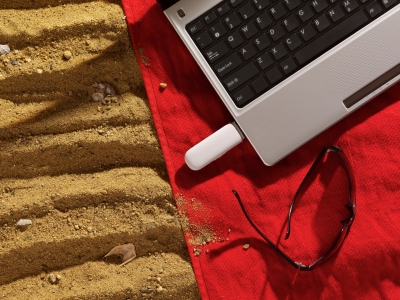 The school bell rings for the last time and hoards of kids come streaming out of the school, jubilant that summer vacation has begun. Our thoughts turn to BBQs, beaches, camping and picnics. For many employees in Canada summer is prime vacation taking time. For employers that means handling the workload on skeleton staff in some cases, or in other cases, dealing with downturns in business as their clients and customers take time off as well. For those businesses that have their year end during the summer months, it's doubly tricky; we all know how busy it is to get through year end activities. But with employees in a summer frame of mind, it's even tougher to keep the motivation levels up. So how do you maintain productivity during these typically "down" months? Here are a few ideas.
Pre-plan vacations
Ensure you plan vacation time so that you always have enough staff to get the job done. By planning in advance of the summer starting means everyone knows what days or weeks they can take off in the summer and can plan accordingly. This may mean having to say no to some employees' last minute vacation requests. (Which means the following year they won't be last minute!)
Visible Vacation Calendar
I have often found it helpful to have a large calendar with all my employees' approved vacation time scheduled on it. It serves as a visual reminder for both me and my team as to who is available on any given day. It also helps manage those last minute requests that do come up; employees can check the calendar and see based on who is available if their request will be granted or not.
Provide flex time
Let's face it. Summer is short so help your employees get the most of it by offering flex time. This can take the shape of offering alternate Fridays off if employees work extra time during the week to make up for the time, or offering early leave Fridays during the summer months, etc. There are many variations to this type of arrangement. The key is to ensure it is consistently applied and that there is enough staff on Friday afternoons to cover the work.
Office closure
This may seem counterintuitive to productivity but hear me out. If your clients and customers are away on vacation or otherwise not available for a set period during the summer months, unless you have administrative work you need to catch up, it makes no sense to keep the shop doors open just to stay open. That way your employees really won't be productive and will just be milling around wishing they were on vacation. Close up shop for that period of time and have everyone use up their vacation time accordingly. You'll have the benefit of refreshed and relaxed employees coming back fully recharged for your busier season and you will not have the problem of large vacation balances that are not being used up. (NOTE: In most jurisdictions employers have the right to schedule vacation: e.g. Ontario, https://www.labour.gov.on.ca/english/es/pubs/guide/vacation.php, BC http://www.labour.gov.bc.ca/esb/facshts/annualfact.htm; Alberta – employer must give the employee 2 weeks' notice in writing of the start of their vacation http://humanservices.alberta.ca/working-in-alberta/1471.html )
Catch up
Summer is often the perfect opportunity for businesses to catch up on some of the more mundane aspects of operating, such as filing, inventory counts, etc. You can get the best of both worlds by hiring summer students to do this type of work and fill in for employees going away on vacation.
Professional Development
How about having your employees catch up on their professional development and use the slower months to participate in webinars, e-courses, and read interesting articles helpful to their jobs. Or provide them with interesting learning opportunities such as cross-functional projects or committees to keep them motivated during the down time.
Build in fun
If any of the above are just not an option for your business, ensure you maintain the productivity of your employees by bringing in some summer fun into the business. Maybe your employees can't go to a picnic, so bring the picnic to them by hosting a picnic lunch onsite. At one organization I worked at, managers would bring employees ice cream and popsicles on particularly hot days. Perhaps you can have one of your team meetings outside versus in the office, or have your scheduled one on one with an employee be a "walk and talk"; enjoy the weather while at the same time touching base with your employee. There are many creative ways of enjoying the summer while being productive. What are some other ways you can think of? Or better yet, ask your employees!